Handmade Woodooz Tablelamps
Meet

Kuril

(குறில்)

, an exquisite creation
, from the soon to be launched Woodooz Store. KURIL in the Tamil language refers to the short vowels. The short duration of the utterance of these vowels give them this name. Given that we were particularly looking to name our current and all future line of products in Tamil, this one seemed an apt name for our dainty looking Table Lamps.
We wanted to stay away from any design complications, at least to start with, and stick to what our strengths are. And so, the KURIL lampshades, are straight shaped, with clean edges. The main frame is made of 12mm sticks that add an elegant border to the shade when lit.
Materials used
The base and the crown of the lampshade are made of an 18mm wooden beading that has been enamel coated with a matte finish that is smooth to the touch. The entire product is handmade and homespun. The frame of the shade is also made from strips of the same wood material.
The fabric for our KURIL range is carefully selected to cater to the varied tastes of our potential customers. They come in different colors, patterns and styles. Ranging from contemporary block prints, to ethnic Kalamkaris and Ikats, you will have a suite of design schemes to choose from
So here you go - One of the KURILs - A simple, chic and petite concoction from our Studio.
Buy Lampshades online
Dimensions
Height : Base to crown : 19 inches
Width : Close to 5 inches(all 4 sides of the frame)
The base and crown are available in either walnut or brown color. The frames, of course, come in varied colors and designs depending on the shade you choose.
KURIL works well with regular halogen lamps (40/60 Watts) or CFL. The latter is our personal recommendation (40/60 watts equivalent) because of the warmth in the light radiance. Use of warm white or cool white lights is normally a personal choice.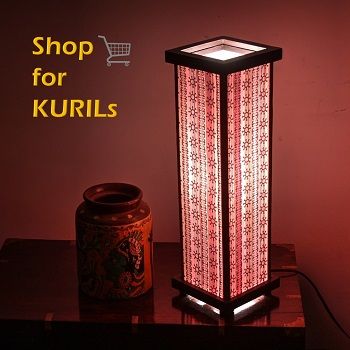 Click to Shop for KURILs
It is perfect for bedrooms, living rooms and dining rooms.You can use it to add a wonderful visual appeal to your already enticing interiors. The shade, we can assure you will not disappoint you both when lit or otherwise. Exudes enough light to provide you a good reading corner, and at the same time remains delicately lit to not disturb the spirit of the exquisite ambiance you desire. Admire it from close proximity and it would still be easy on your eyes - No glares or flares.
Be there to meet the KURILs at our E-store on the 25th of July.